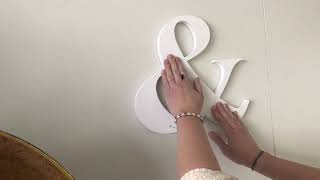 20 cm Deco Letters 3D letter
20 cm high Decoration Letters to create words and names as desired.
item no.: 3D-1024
Dispatch within 5 - 7 working days
Low shipping rates
Secure payment
Shipped with care
Made in Europa
High quality products
Item

Material & Video

Reviews

Supplementary Products

Popular products

Popular products
Item
Decoration Letters - Height approx. 20 cm
These decoration letters are made from lightweight rigid PVC and can be painted or otherwise decorated. Create names and words as desired with the new decoration letters. Get creative and start decorating with typography!
Please note: The letters F and P, and numbers 4 and 7 from the font SWISS are not free standing!
'Whatever words we utter should be chosen with care for people will hear them and be influenced by them for good or ill.' This famous quote by Buddha is all there is to say about words. Words are made up by letters and can be used in good and bad ways. Our 3D 20cm deco letters are perfect to create all the good and positive words you can think of. Your teenage daughter will love her own's or her best friend's name on her shelf, while everyone would be impressed to see your family's name in the hallway. Or how about a compilation of your family members names on the wall, next to the photographs?
PVC foam is a very durable and light material and that's why we chose to use it for our 3D 20cm deco letters. It is so light that it can be hung up on the wall by Tesa Tack, so no holes or drilling is necessary. It can also be decorated in many ways and is ideal to be painted on!
Material & Video
Our decorative 3D letters are made of PVC foam.
Properties
Stable and light
Precise and laser cut
19 mm thick PVC foam
Matt white surface
Can be painted and enameled
Delivery
Decorative letters made out of 19mm thick PVC
Please note that not all letters can stand by themselves. Please lean them against the wall or use self adhesive pads to apply them to the wall. Please select your paint for PVC carefully. Due to the huge amount of types of paint, we cannot give a uniform advice on which paint to use.
This design on different materials