Round wallpaper Kvilis - Animal Friends in the Forest
Round wallpapers are trendy and brighten up your walls!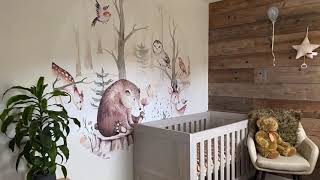 Round wallpaper Kvilis - Animal Friends in the Forest
Round wallpapers are trendy and brighten up your walls!
Item

Material description

Reviews

Supplementary Products

Similar items

Popular products
Item
Round wallpaper Kvilis - Animal Friends in the Forest
Decorating the room of your baby is such a fun thing to do but it can also be difficuly to decide which wall art is the perfect wall decor for your little one. Well, we can guarantee you that your child will love this round wallpaper of the cutest animal friends in the forest. It is not just the perfect wall art for a nursery, but your toddler son or daughter will also adore it. Even adults are crazy about this circle shaped wallpaper. A cute bear, a wise owl, a relaxing deer, beautiful birds and lovely trees and a cute little bunny. There is so much going on in this design that no one will ever get bored by looking at this wall art. Round wallpaper is most definitely the new trend you see everywhere at the moment. At wall-art.com we offer a large selection of round wallpapers in various styles. You can be sure to find a beautiful round wallpaper for your home. Our round wallpapers are perfect for lower budgets. Our wallpaper prices are low. We are able to offer round wallpapers at great prices because we do not cut your wallpaper into a circle before you receive it. We deliver your wallpaper with a cutting template and all you have to do is cut it with a sharp knife by using the cutting template. It is a fun DIY thing to do and very easy!
Properties:
The round wallpapers are often offered in various sizes. You can select the size you like from the drop down menu.
The cutting template which you will need to cut your wallpaper in the shape of a circle, is included in your delivery. Use a sharp knife. It is an easy DIY thing to do and it will be fun!
Our round wallpapers are produced in Europe. We use high quality materials only to fabricate the perfect product for you.
Always use wallpaper paste which is suitable for fleece wallpaper and be sure to check out or video tutorial on how to apply the round wallpaper to your wall.
Material description
High quality wallpaper: »MADE IN GERMANY«.
Easy to apply. The glue can be applied to the wall directly. Our fleece wallpaper has the advantage that you have the ability to make small corrections after applying. Another advantage is that the fleece wallpaper is slightly thicker than normal paper wallpaper.
Properties
suitable for every surface which is suitable for wallpaper
width of each lane is 48cm
covers small cracks and dents in the wall
easy to handle and to apply
can be applied without overlap
high light-resistance & durability
weight: 130 g/m²
NOTE: For the best result you look at the wallpaper from a small distance. Viewed from up-close a slightly blurred effect is unavoidable.
Reclamations cannot be accepted when the instructions have not been followed fully and thoroughly.
Order your accesories for easy application:
This design on different materials