Sleeping Panda Wall sticker
A cute panda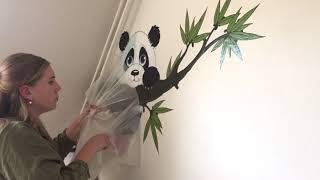 Sleeping Panda Wall sticker
A cute panda
Low shipping rates
Secure payment
Shipped with care
Made in Europa
High quality products
Item

Material description

Reviews

Supplementary Products

Popular products

Popular products
Item
Animas wall stickers are a great way to decorate your little ones room! All kids love animals and the Giant Panda is one of their favourites. It is native to China and one of the big attractions in any zoo, although they do little more than eating bamboo and sleeping. Still, many people of all ages and from around the world are fascinated by these large animals. Sadly, the Giant Panda is an endangered species and not many of them can still be found in their natural habitat. Our Sleeping Panda Wall Sticker will keep your treasure safe and will look after your son or daughter while asleep.
Whether you are just looking for a cute wall sticker or your child is actually a fan of this great animal, you will score high points with this super Sleeping Panda Wall Sticker! Just look at the dreamy eyes, cuddly fur and big paws! It will win your little girl's or boy's heart in no time! It's the perfect companion for above the changing table or the play corner. We are sure you will love it as much as we do!
Material description
Properties
Self adhesive
Easy to put on, easy to remove
Flexible and very thin vinyl - looks like being painted
Contour cut, without transparent or white edges
Available for the following surfaces
Please note when applying your wall sticker
Surface has to be free of dust, grease, silicone, latex and acrylic paint.
Wallpaper with an extra protection layer is not suitable
When you have recently painted your wall, it is important to wait at least three weeks before you apply a new wall sticker
Please do not store your wall stickers longer than 2 weeks after receiving them
Please check and follow the instructions.
These wall stickers cannot be reused after removing them. Depending on the type of wall paint, some flakes of paint may come loose whilst removing the wall sticker. This is something that is out of our influence and therefore no reason for a warranty claim.
Wall-Art - Quality since 2007
Made in Europe
Highest quality by using European materials

Please note: Some wallpaint manufacturers use hidden silicone in their products, to test your surface please request a free sample sticker.