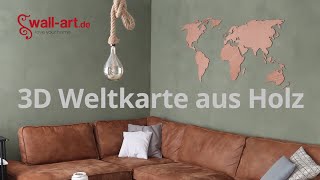 Wooden 3D Worldmap – Mahogany
The perfect wall decoration for world travellers
item no.: HK4055M
Dispatch within 5 - 7 working days
Low shipping rates
Secure payment
Shipped with care
Made in Europa
Item

Material & Video

Reviews

Supplementary Products

Popular products

Popular products
Item
Wooden 3D Worldmap – Mahogany
This wonderful worldmap is available in various sizes. Included you will find an overview of how the placement of the individual parts should be. Please notice that the direction of the wood grain does not have to be the same across all parts.
Properties:
Available in various sizes
Self adhesive pads to be ordered separately
Photocredit: instagram.com/madeleineshouse72
Material & Video
Our mahogany accessoires are made of 5mm thick mahogany.
Properties
Natural & untreated wood
Precise contour edges
5 mm thick
Stable and light
Contents
Wooden accessories made of mahogany wood.
Note: Wood is product of nature, small variations in colour, structure and size are possible, this belongs to the type of product. As the letters are only 5 mm thick, they are not free-standing. Letters can be leaned against the wall, or you can use our adhesive pads to fix the letters to the wall.
Adhesive pads are sold separately, see the supplementary products.
This design on different materials