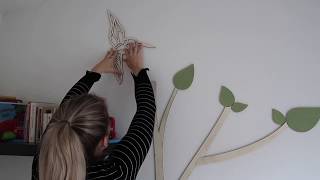 Decorative Tree - wood - poplar
A decorative tree made of poplar wood
item no.: HK5102P
Dispatch within 5 - 7 working days
Low shipping rates
Secure payment
Shipped with care
Made in Europa
High quality products
Item

Material

Reviews

Supplementary Products

Popular products

Popular products
Item
Wooden Décor - Tree - Poplar Wood
Decorate your wall with this impressive XXL tree made of high-quality poplar wood. The tree consists of 84 individual parts that you stick to your wall. The individual branch parts are numbered on the back so that you can easily attach them step by step with the provided illustrated instructions. The 61 leaves in different sizes can be arranged at the branches as you please. The decorative tree is available in two different sizes. You can choose between aligned branches to the left or to the right.
Properties:
4 mm thick
natural and untreated wood
light and therefore easy to fix with self-adhesive pads
Material
Our wooden accessories are made our of 4 mm thick poplar.
Properties
Natural & untreated wood
Precise contour edges
4 mm thick
Stable and light
Contents
Decorative letters made out of poplar
Note: Wood is product of nature, small variations in colour, structure and size are possible, this belongs to the type of product. As the letters are only 4 mm thick, they are not free-standing. Letters can be leaned against the wall, or you can use our adhesive pads to fix the letters to the wall. Adhesive pads are sold separately, see the supplementary products.