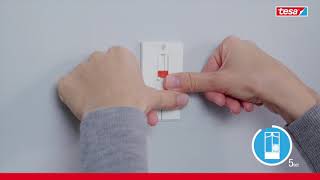 item no.: TE-77777
Dispatch within 4 - 7 working days
Item

Reviews

Popular products

Popular products
Item
tesa® Adhesive Nail Adjustable 2x2kg
HANGING WITHOUT DRILLING
Leave your tools where they are. The adhesive solutions from tesa® will help you with hanging your items. No damage to your wall.
STRONG
The adhesive nail works due to the tesa® Powerstrips technology. Depending on the type you select, up to 2 Kg can be hung to the adhesive nail. Ideal for areas where drilling is unwanted or not allowed. Suitable for various surfaces, such as wallpaper and plasterwork.
EASY TO HANG, EASY TO REMOVE
Apply the strips to a clean surface, apply an even pressure for about 5 to 10 seconds. Ready! To remove the strip, gently pull the Powerstrip down, it will slowly release without leaving any residue.
REUSABLE
The adhesive nails are reusable. Only some new Powerstrips are needed, sold separately. A huge advantage compared to traditional solutions.
Properties:
Material: Plastic
Size (L x B): 1,3 cm x 12 cm
Colour: Wit
Suitable for weights up to 1 Kg per strip, 2 Kg when using 2 strips.
Easy to remove.
Depending on the type, the adhesive nail is adjustable in height.
Always read and follow the instructions of the manufacturer.
Reusable with new Powerstrips.
This design on different materials